CIT Group Inc.'s CIT efforts to diversify revenues along with its expansion initiatives are expected to continue to aid growth. Moreover, supported by a solid balance sheet, the company will likely continue to enhance shareholder value through efficient capital deployments.
However, CIT Group's bottom line is expected to be hurt to some extent because of a persistent increase in expenses. Worsening credit quality is another major concern.
Thus, analysts have maintained a neutral stance toward the stock. Over the past 30 days, the Zacks Consensus Estimate of the company's current-year earnings has been unchanged. Hence, CIT Group currently carries a Zacks Rank #3 (Hold).
So far this year, shares of the company have gained 53% compared with 15.3% growth recorded by the industry.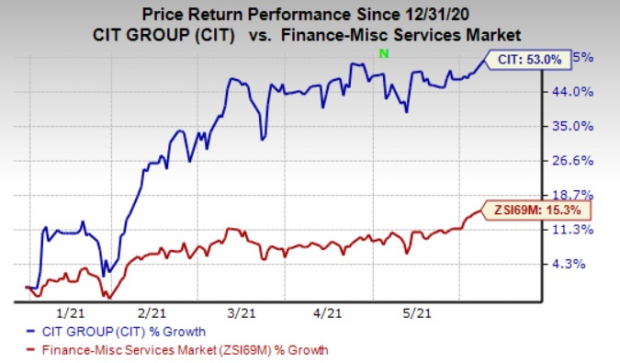 Image Source: Zacks Investment Research
Notably, CIT Group has been successful in restructuring its business with a goal to simplify operations and become a regional commercial banking institution. In October 2020, it announced an all-stock merger deal with First Citizens BancShares, which is expected to lead to the formation of the 20th largest bank in the United States based on assets. The deal is anticipated to close in mid-2021.
In January 2020, it completed the acquisition of Mutual of Omaha Bank. Further, in September 2020, CIT Group sold its trust and wealth advisory business with an aim to focus on core operations.
Moreover, the company's current liquidity position suggests that it will be able to continue to meet debt obligations in the near term, even if the economic situation worsens. As of Mar 31, 2021, it had total debt of $4.84 billion, and total cash and interest-bearing cash balance of $5.35 billion.
The company has also been restructuring its balance sheet through the repayment and refinancing of high-cost debt. Apart from lowering funding costs, the initiative continues to support net finance margin growth. In fact, amid the current tough operating backdrop, an increase in demand for financing of inventories and capital equipment will likely enable CIT Group in enhancing its average earning assets.
However, the company's non-interest expenses have witnessed a five-year (2016-2020) compound annual growth rate (CAGR) of 2.2% primarily due to higher compensation costs, professional fees and technology costs. While CIT Group realized $25 million of cost synergies related to the integration of Mutual of Omaha Bank in 2020, overall costs are expected to remain elevated in the quarters ahead, given its growth efforts and continued investments in franchise.
Further, its provision for credit losses witnessed a five-year (2016-2020) CAGR of 42.4%, with some annual volatility. Owing to the uncertainties related to the coronavirus outbreak, provisions increased significantly in 2020 as the company build reserve. While it recorded a provision benefit in first-quarter 2021, its intention of becoming a leading national middle-market bank is expected to lead to a rise in loan balances, thereby, resulting in an increase in provisions, going forward.
Stocks to Consider
A few stocks from the finance space worth a look are mentioned below.
Western Alliance Bancorporation WAL witnessed an upward earnings estimate revision of 19.9% for the current year over the past 60 days. The company's shares have rallied 71.3% so far this year. It carries a Zacks Rank #2 (Buy) at present. You can see the complete list of today's Zacks #1 Rank (Strong Buy) stocks here.
Moody's Corporation's MCO shares have gained 16.1% so far this year. The company's earnings estimates for the ongoing year have moved 6.4% upward over the past 60 days. It currently has a Zacks Rank of 2.
UMB Financial Corporation UMBF has witnessed an upward earnings estimate revision of 26.2% for the current year over the past 60 days. Shares of this Zacks #2 Ranked stock have gained 39.4% so far this year.
Infrastructure Stock Boom to Sweep America
A massive push to rebuild the crumbling U.S. infrastructure will soon be underway. It's bipartisan, urgent, and inevitable. Trillions will be spent. Fortunes will be made.
The only question is "Will you get into the right stocks early when their growth potential is greatest?"
Zacks has released a Special Report to help you do just that, and today it's free. Discover 7 special companies that look to gain the most from construction and repair to roads, bridges, and buildings, plus cargo hauling and energy transformation on an almost unimaginable scale.
Download FREE: How to Profit from Trillions on Spending for Infrastructure >>
Moodys Corporation (MCO): Free Stock Analysis Report
CIT Group Inc. (CIT): Free Stock Analysis Report
UMB Financial Corporation (UMBF): Free Stock Analysis Report
Western Alliance Bancorporation (WAL): Free Stock Analysis Report
To read this article on Zacks.com click here.
The views and opinions expressed herein are the views and opinions of the author and do not necessarily reflect those of Nasdaq, Inc.