Reminder: Complete Your COVID-19 Vaccination Survey 
Members of CMU's Pittsburgh campus community are strongly encouraged to complete the COVID-19 vaccination survey that was sent via email on May 27. Your participation in CMU's COVID-19 Vaccine Data Collection is critical to informing the university's decision-making and planning efforts moving forward.  
The survey link that was sent to you via email is unique to your email address, so please do not forward. 
The information you provide regarding your COVID-19 vaccination status is confidential and only authorized CMU personnel will have access to the information. In addition, your information is subject to the university's COVID-19 Vaccination Data Collection Privacy Notice (PDF). This data will be purged once the uses for which it is being collected are fulfilled.
If you did not receive the email with the vaccination survey, please contact [email protected] Questions may be sent to [email protected]
Carnegie Mellon is among hundreds of colleges and universities nationwide to accept the invitation from the White House and U.S. Department of Education to end the pandemic by joining the COVID-19 College Vaccine Challenge.
Participating colleges commit to taking three key actions to help get their campus communities vaccinated. The three key commitments are:
Engage every student, faculty, and staff member. Make sure every member of the  campus community knows they are eligible for a vaccine and has resources to find one.
Organize your college community. Lead the way by identifying champions for vaccine efforts across campus and implementing a plan to get as many members of your college community vaccinated as possible.
Deliver vaccine access for all. Meet your community where it is: bring vaccines on-site, and make it easy for students, staff, and faculty to get vaccinated at sites nearby them this summer.
Learn more about the COVID-19 College Vaccine Challenge.
Obituary: Remembering Professor Emeritus Jeffrey Williams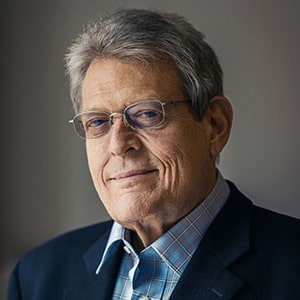 Jeffrey R. Williams, professor emeritus of business strategy at the Tepper School of Business, passed away peacefully on Monday, May 31.
A member of the Tepper School faculty for 44 years, Williams was an authority on how to gain and sustain advantage in changing markets. His work centered on the principle that all products and services, no matter how successful, must be continually renewed through business model innovation and leadership.
He authored 40 studies on business strategy and was featured in the Wall Street Journal, Forbes and Fortune magazine. His long list of clients included AT&T, Bristol-Myers Squibb, National Semiconductor, Mellon Bank, Goodyear, Bell Labs, IBM and Lockheed Martin. His study of strategic factors responsible for success across 70 industries was the focus of his acclaimed book, "Renewable Advantage: Crafting Strategy Through Economic Time."
A passionate educator, Williams cared deeply about developing thoughtful, ethical leaders and was proud to be a three-time recipient of the Tepper School's George Leland Bach Teaching Award.
"We are deeply saddened to say goodbye to our respected colleague and long-time member of the Tepper School family," said Isabelle Bajeux-Besnainou, dean of the Tepper School of Business. "Jeffrey Williams was a highly accomplished scholar and teacher and will be greatly missed by his many colleagues and students."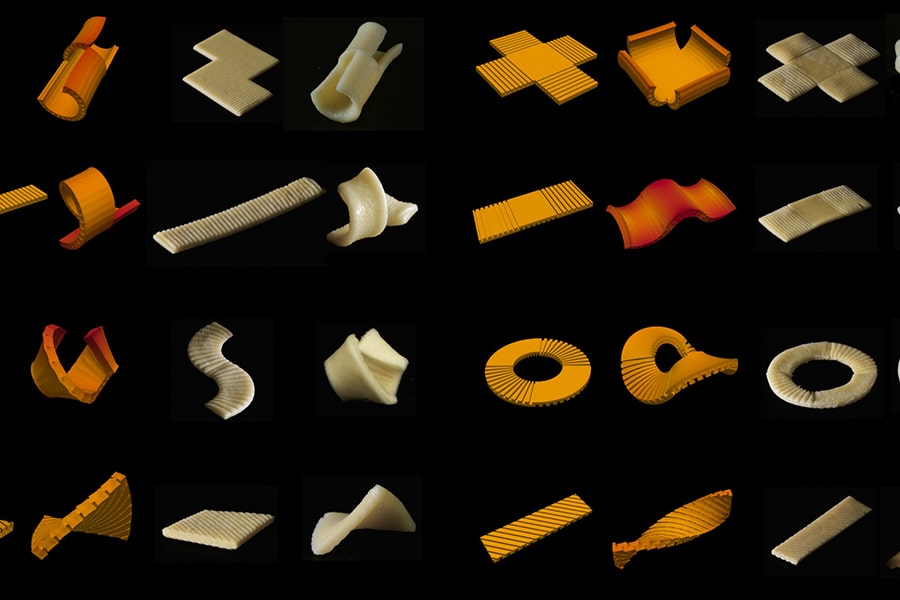 From tubes of penne and rigatoni to spirals of fusilli and rotini — the iconic shapes of pasta make the staple food a bear to package.
A research team led by the Morphing Matter Lab at Carnegie Mellon is developing flat pasta that forms into familiar shapes when cooked. The team impresses tiny grooves into flat pasta dough — made of only semolina flour and water — in patterns that cause it to morph into tubes, spirals, twists and waves.
The morphed pasta looks, feels and, most importantly, tastes like traditional pasta, opening new possibilities for food design and allowing for flat-packed pasta that would cut back on packaging, save space in storage and transportation, and possibly reduce the time and energy needed for cooking.
"We were inspired by flat-packed furniture and how it saved space, made storage easier and reduced the carbon footprint associated with transportation," said Lining Yao, director of the Morphing Matter Lab in the Human-Computer Interaction Institute at CMU's School of Computer Science. "We decided to look at how the morphing matter technology we were developing in the lab could create flat-packed pastas that offered similar sustainability outcomes."
Learn more about morphing pasta.
The Schedule of Classes (SOC) has published for fall 2021 and students may now plan their preferred schedule within Student Information Online (SIO) and Stellic. As you prepare for fall 2021 registration week, June 7-11, be sure to review the registration steps outlined on The HUB website. There, you'll find a pre-registration checklist and course planning resources that will help you experience a seamless registration process.
As Provost Jim Garrett communicated in his May 6 message regarding registration week, CMU plans a return to an educational experience that is close to our normal fall semester approach. Therefore, the majority of courses will require in-person attendance, as designated by their course delivery modes in SIO and Stellic, for the fall 2021 semester. A number of Pittsburgh-based course-sections, though, may be labeled Remote Only (REO). Some REO sections are open to all students regardless of location, while some REO sections are reserved for use later in the summer if cohorts of students are unable to arrive to the U.S. for classes this fall. View specific instructions on how to check if a course is available to you when planning your schedule and when registering.
All students should plan their preferred schedule and register for in-person courses. However, students who anticipate being unable to arrive to the U.S. on time for fall classes are asked to also create a second planned schedule titled "Remote Only Schedule." Those alternate schedules will help students unable to return to campus to make informed decisions about their fall plans and the compiled information will also be used to help departments determine if certain REO course-sections will need to be fully activated later this summer.
See the registration week schedule.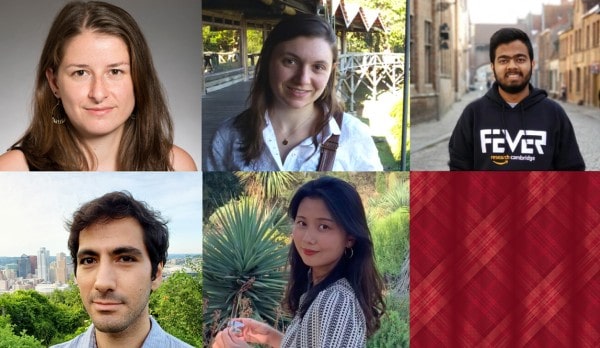 Nil-Jana Akpinar, Natalia Lombardi de Oliveria, Divyansh Kaushik, Emre Yolcu and Minji Yoon (clockwise from top left)
Five Carnegie Mellon students with ties to the School of Computer Science were selected for the inaugural Amazon Graduate Research Fellows Program. Amazon and CMU established the program to further the company's commitment to supporting promising researchers across academia.
The five fellows are Nil-Jana Akpinar, Natalia Lombardi de Oliveria, Divyansh Kaushik, Emre Yolcu and Minji Yoon.
"Each fellow was selected based on their academic excellence and potential to achieve big things in their chosen fields," said Alexa Smola, Amazon Web Services vice president and distinguished scientist. "We reviewed their research proposals to make sure they're doing really great work. They are the real stars here. We're supplying some funding, but they are performing the actual research."
Yoon and Yolcu are pursuing doctoral degrees in the Computer Science Department. Yoon is working on automating and democratizing graph mining. Yolcu has made contributions to the complexity of proof systems that reason about symmetries, with publications appearing in SAT and NeurIPS.
Kaushik, a Ph.D. candidate in the Language Technologies Institute, is working on developing natural language processing systems that can perform reliably in real-world deployment settings.
Akpinar and de Oliveria are pursuing doctoral degrees through a joint program in the Machine Learning Department and the Department of Statistics and Data Science. Akpinar's work focuses on bias auditing in algorithmic systems and shows how differential victim crime reporting rates can lead to biased outcomes of predictive policing algorithms. De Oliveria studies estimating generalizations, known as optimism in classical statistics terms. Her work examines the difference between the test and training performance of a predictive algorithm.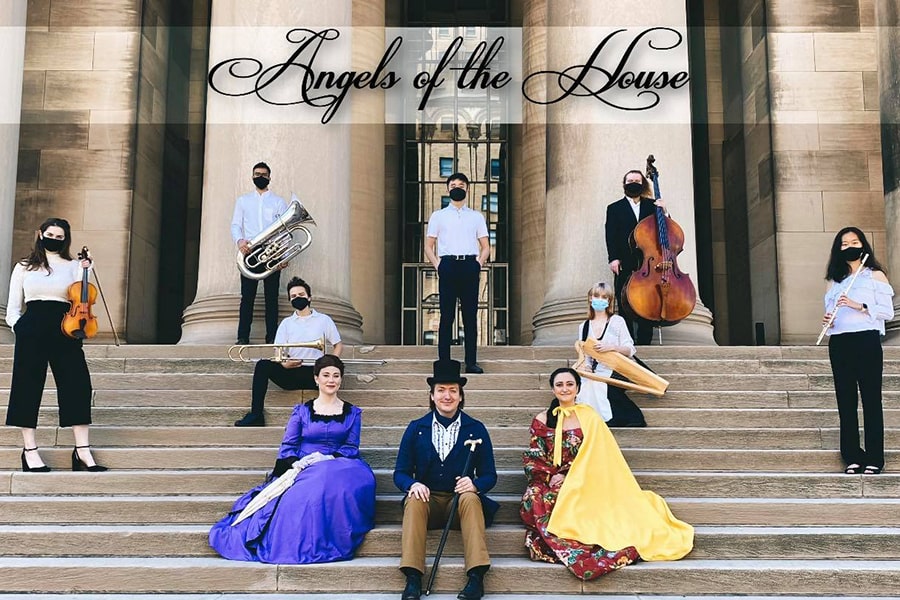 Angels of the House, an opera produced and co-directed by recent Carnegie Mellon graduate Sophie Carpenter and rising senior Shambhavi Mishra, makes its virtual world premiere June 4-6. 
Funded and sponsored by the Frank-Ratchye Studio for Creative Inquiry, the College of Fine Arts and the School of Music, Angels of the House — performed by CMU alumni and students — follows the unlikely friendship between two women; Caroline Norton, a highly acclaimed women's rights activist; and Arabella Decker, a working class, soon-to-be mother.
Based in London, England, in the 1800s, the opera "pushes the envelope," say the producers, by exploring the human rights and policies of the past while connecting their effect to the present day. Themes explored include mental/physical abuse, women's rights, reproductive rights and miscarriage. The opera is based on a history of injustices and provides a space for open conversation.
"We want our audience to walk away feeling empowered," Carpenter and Mishra said. "We want the female-identifying audience members to either begin or continue to find relationships with others that fortify the strengths they already have."
Performance dates and times are as follows:
June 4, 7 p.m. ET, followed by a Zoom Q&A with the cast and crew;
June 5, 7 p.m. ET; and

June 6, 2 p.m. ET.
Tickets can be reserved online. Donations to the Women's Center & Shelter of Greater Pittsburgh can be sent via Venmo to @angelsofthehouse. Watch the trailer.

Learn more about Angels of the House.
Open enrollment for Carnegie Mellon on-campus parking permits for 2021-2022 is in progress through Friday, June 18. This year's rates are equivalent to the rates for 2020-2021.
If you are a student, a new applicant for parking, or if you cancelled your parking and wish to resume parking on campus for 2021-2022, you must add your name to a waiting list, as current permit holders will be given first priority to renew their parking location. Individuals on the waiting list will be offered parking options based on their university seniority.
No action is required for current leaseholders. Faculty and staff permits from last year will automatically roll over to 2021-22.
Permits for 2021-2022 will go into effect on the first day of classes, Monday, Aug. 30. Information regarding the distribution of new hangtags will be sent in late July.
Learn more about parking on campus. Questions can be directed to [email protected]
The Center for Machine Learning and Health is seeking compelling CMU faculty-led science projects to fund that creates value for stakeholders including patients and caregivers, providers, payers and health care institutions. 
The CMLH is looking for projects in four broad focus areas — oncology, women and children's health, drug and target discovery and digital therapeutics. Enabling technology from computer science, biology, engineering, policy, operations, design, behavioral/social sciences and the arts and more are all possible drivers or components of novel, interdisciplinary digital solutions that address unmet needs in health care.
The new submission process for 2021 includes the "Intent to Propose" (ITP) document. The ITP is mandatory and is the first step to be considered for funding, Full proposal submissions will be by invitation only. You must submit an Intent to Propose Form in order to be considered for a proposal invitation.  
Complete details for the Call for Proposals and the Intent to Propose Form (due July 6) can be found on the CMLH website:  http://www.cs.cmu.edu/cmlh-cfp/cfp-2021 
Contact the CMLH with any questions at [email protected]
The Piper will be moving to its bi-weekly summer schedule for June and July. Publication dates will be June 17, July 1, July 15 and July 29. The Piper will resume its weekly schedule in August. 
Carnegie Mellon welcomes the following new staff members this week.
Gregory Wilson, Temporary Employment Service, Temporary Employment Service Pool;
Erica Drayer, Foreign Student/Scholar Advisor, Foreign Student & Scholar Services;
Julie Nys, Employment Processes Administrator, Language Technologies Institute;
Ryan Noone, Communications Manager, CIT Dean's Office; and
Megan Pierce, Project Associate, Campus Design and Facility Development.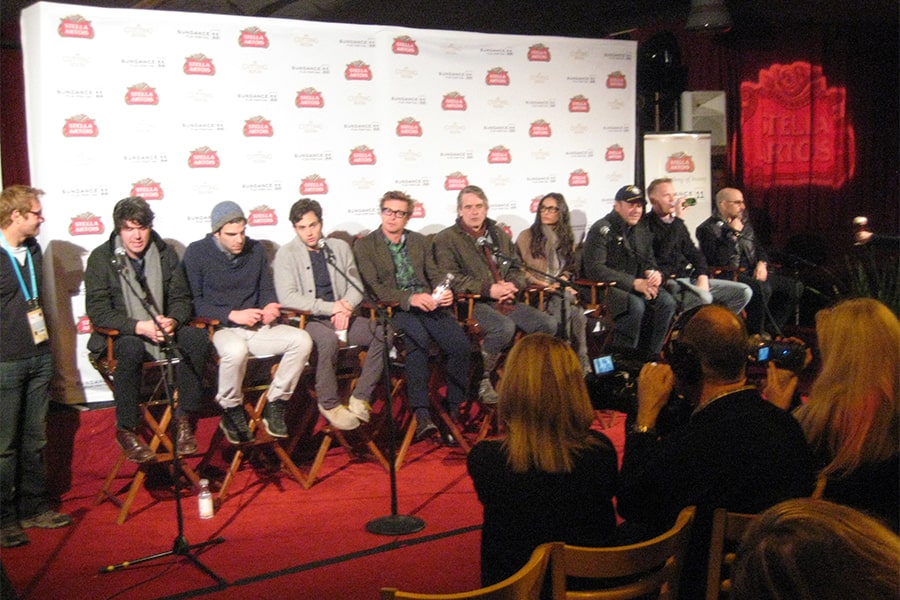 The "Margin Call" movie press conference (above) in 2011. From left to right: Sundance senior programmer David Courier; director/writer J.C. Chandor; producer/actor and CMU alumnus Zachary Quinto; and actors Penn Badgley, Simon Baker, Jeremy Irons, Demi Moore, Kevin Spacey, Paul Bettany and Stanley Tucci.
Before The Door's First Major Film
By Kelly Saavedra
An actor, a producer and a finance director walk into a bar. It's no joke — it marked the start of Before the Door Pictures, a new venture for Carnegie Mellon alums and longtime pals Zachary Quinto, Neal Dodson and Corey Moosa.
Their first major motion picture "Margin Call" began shooting in the summer of 2010. The corporate thriller centers on the beginning of the financial crisis in 2007-2008, covering a 24-hour period inside a Wall Street investment bank. In addition to Quinto, its star-studded cast includes Kevin Spacey, Demi Moore, Simon Baker, Paul Bettany and Stanley Tucci.
A one-of-a-kind production company, Before the Door drew its name from one of the first acting exercises required of the trio in Carnegie Mellon University's drama program.
"We had all these props and there was a door set up in the classroom. On the other side of the door was an obstacle that you didn't want to face but you had to," Moosa said.
"We wanted a name that would tie us all together," Dodson added.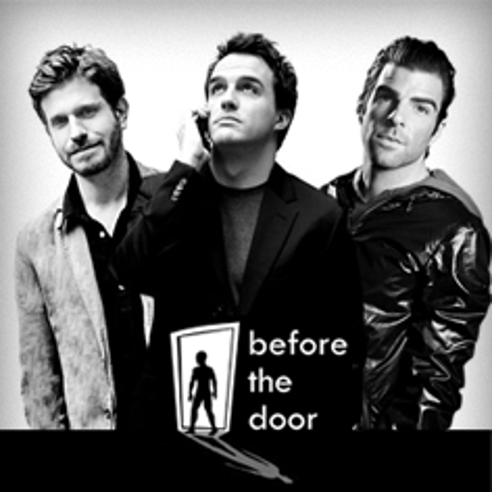 Quinto built a successful acting career in Los Angeles, most notably playing Sylar on the hit TV show "Heroes" and young Spock in the blockbuster film "Star Trek." Moosa conquered the trendy New York City theater scene and oversaw hundreds of productions as director of finance for the HERE Arts Center. Dodson went straight from school to performing on Broadway, followed by appearances on television and regional theater, and then he transitioned to producing out of a genuine drive to create.
"Zach jokes about it, but really, he's the face of the company, I'm the brains and Corey's the heart," Dodson said.
"Margin Call" won two Independent Spirit Awards; New York and San Francisco Critics' awards for Best First Film and Best Original Screenplay respectively; and was nominated for an Academy Award for Best Original Screenplay.